Antonia Fraser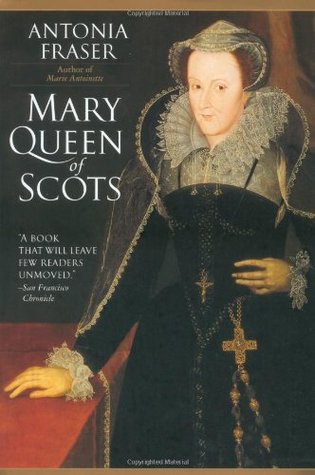 This is the second time I have read this book, the first being some years ago. It is even better the second time around. Every aspect of Mary's life is covered, from her childhood marriage to the French king, to her long imprisonment as her cousin, Queen Elizabeth's captive. The only thing I would quarrel with is the depiction of Bess of Hardwick, the Countess of Shrewsbury. She and her husband were in an impossible situation. Commanded to keep Mary captive by the English queen, they were aware that at any moment, the tables would turn, and Mary would become Queen of England. It was a difficult balancing act they had to do.
Although the two queens never met, they were constantly in each other's thoughts. Elizabeth hesitated to kill Mary, yet each moment she lived,  she posed a threat. She was a rallying point for conspiracy, and she knew it. She didn't have Elizabeth's guile or wariness at putting herself in danger. Ultimately, Elizabeth bowed to the inevitable and signed her death warrent.
Now nearly 600 years later, she continues to weave a web of enchantment. Her final words, 'In me end is my beginning,' prove to be prophetic.