Jill Lepore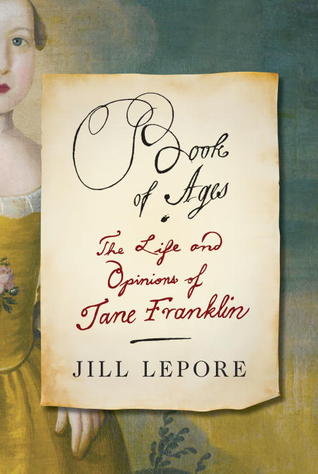 This is the story of Benjamin Franklin's favorite sister, Jane Franklin Mecom. Six years younger that her famous brother, Jane benefited from a particularly close relationship with him all her life. In spite of her lack of formal education, she learned to read and write at an early age. Her writing was never that of an educated person, but she managed to make herself and her opinions clear in spite of idiosyncratic spelling. In fact, IMHO, the advantages of texting and Facebook, make it possible for these less educated than most to have a voice in the common discourse once closed to them.
Just because she was denied the benefits of a formal education, Jane evidences the presences of a shrewd gauge of human beings and a willingness to express her mind in vivid prose. One wonders what would have become of her if she had been born a boy. With such a brother to back him and mind his business, who knows how life would have been eased for Franklin.
Instead, Jane was married young to a ne'er-do-well, and spent her life trying to care for and support her children who survived and depended on their mother for their financial as well as emotional support. More than once she fled ahead of a hostile army, carrying what she could. She turned to her more famous brother, not for money but for supplies to support her in work by sending her necessary items to make it possible to support herself. She never asked in vain.
Jill Lepore had a monumental task ahead of her. Even the letters of famous men were treated with less than respect. One editor felt it necessary to clean up her language and spelling before publishing a portion of one of her letters in relation to Franklin's life. Even George Washington was not immune to this disregard. His first inaugural address was sliced into pieces and the pieces were handed out to friends of one historian.
How much less respect would be paid to an uneducated woman? In spite of the challenges, Jill Lepore manages to gather enough from the scraps that have been preserved to weave together this fascinating account of one women's life.